Direct to Garment or DTG printing is a process of printing on clothing using modified inkjet technology Machine and CMYK Colors method.. DTG printing applies specialized textile inks directly into the fibers of the clothing that is being printed. The only material that is able to print on is any items make in 100% Cotton, like T-shirt or tote bag.
What is Direct to Garment – DTG ?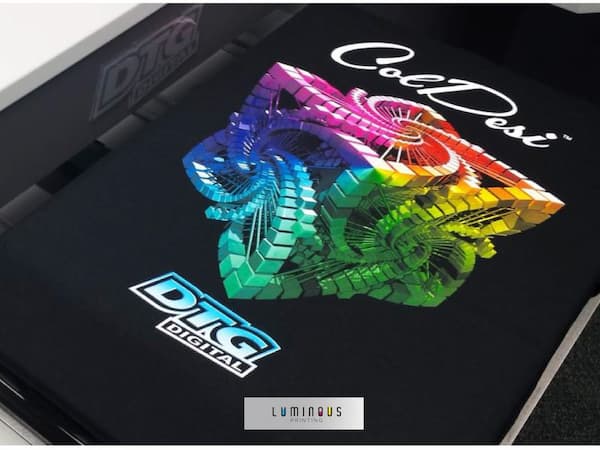 DTG Printing (Direct to Garment Printing) is referred to direct printing or digital sublimation printing, whereby the designs will be transferred to fabrics or textiles surfaces using specialized inkjet technology with the help of a heat press to dry off the ink of the printed artwork efficiently. But wait… isn't this something that is similar to heat transfer printing as well since heat is applied to this method during the printing process? Well, Direct to Garment, DTG Printing is way more than just using heat to have your artwork printed on the fabric.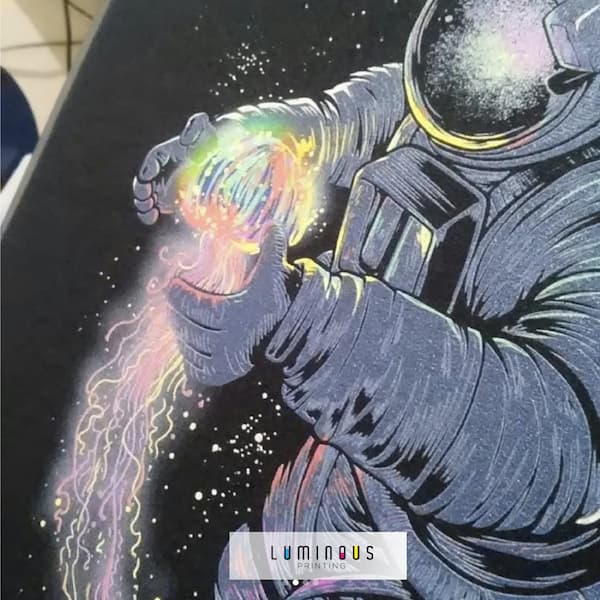 As you could tell from the name of this printing itself– 'Direct to Garment' printing is the technique that transfers your desired artwork directly from the machine on to your desired garment, eliminating every transfer medium to achieve the best outcome that is beyond your imagination. It required inks that match the material that will be printed on to the surface of fabrics or garments, usually on 100% cotton materials.
Get ready to be wowed by the colour presentation of DTG printed artworks. The vibrant colors will have your artwork brought to life. Choosing this method with Luminous Printing will leave you no regrets as we have top-notch machinery in order to achieve the most impressive and eye-catching DTG printed T-shirt. Not only that, as one of the cheapest T-shirt printing in Singapore, we promised that you will be entitled to a very affordable price for a Direct to Garment Printing alongside with the best quality print and services.
Unfortunately, this printing method is very less company own this method, but not to worry, when you come with Luminous Printing, we definitely will provide the best printing method that suit to your requirement.
How much is Direct to Garment Printing charges?
Subject to the dimension and position of the design
What are the advantages and disadvantages of DTG Printing?
Advantages
Environmental friendly as it uses a direct water-based ink inkjet onto the tshirt. No wastage was created as in no transfer paper or medium to be used.
Works perfectly with gradient colours unlike silkscreen printing
No Bleeding line unlike digital Heat Transfer
Disadvantages
The printed result might not as clear as digital heat transfer, as in the color matching is autorun by the machine.
Only applicable to 100% Cotton material.
It is not cheap and not the most economical printing method in large quantity like silkscreen printing.
Costly, as in the consumables, inks are high and imported from overseas.
Longer lead time.
Who manufactures DTG printers?
There are several leading brands manufacturing DTG printers. Brothers and Kornit are among the leading brands developing DTG printer technologies.  The cost for a DTG printer can cost you between range $10,000 to $ 20,000.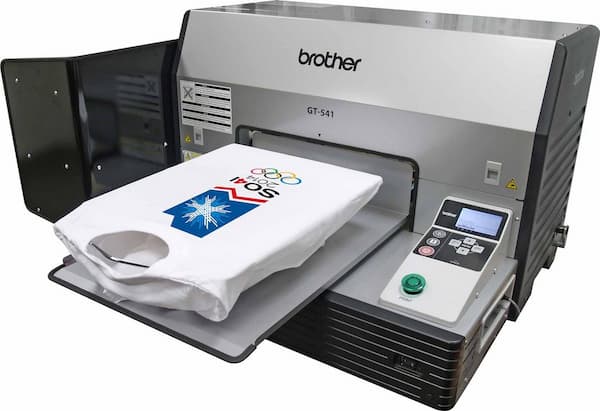 Is Silk Screen Printing or Direct To Garment Printing Better?
Both Silk Screen Printing and DTG Printing are high-quality printing methods available in Singapore nowadays. Silkscreen Printing is better for fewer colours/shades and larger quantities and it can easily find in the Singapore t shirt printing industry. However, Direct to garment is suitable for colorful gradient design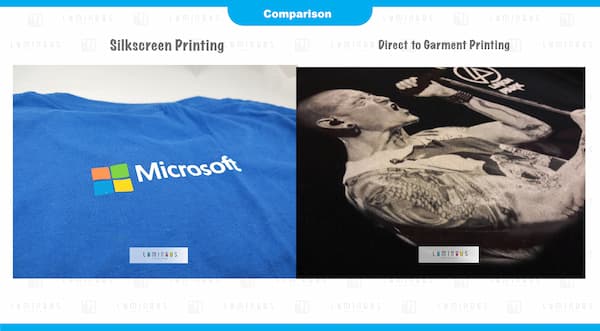 Is Digital Heat Transfer or Direct To Garment Printing Better?
Both Digital Heat Transfer and DTG Printing are high-quality methods of printing available in the Singapore market today. Both are able to print gradient color, but DTG definitely will be more costly. However, DTG has no bleeding line after print.
Both are also suitable for low volume quantity, but Luminous Printing will always drive you to Digital Heat Transfer when you need the t-shirt in a short leat time.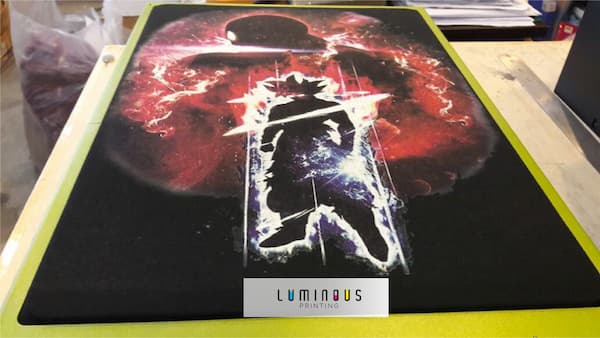 Where can I find cheap Direct To Garment Printing Companies in Singapore?
Unfortunately, there are only a few direct-to-garment printing companies in Singapore, due to the higher costs of inks supplies. Most of the customers with a budget and only seek cheap t-shirt printing instead. Luminous Printing is one the company that provides DTG printing services in Singapore.
Do not worry about the cost, just talk to our salespersons to get a quotation.
This method is best for:
Environmental friendly as it uses a direct water-based ink inkjet onto the T-shirt. No wastage was created as in no transfer paper or medium to be used.
Works perfectly with gradient colors, unlike silkscreen printing.
No Bleeding line, unlike digital Heat Transfer.