Aim to be one in a million to custom t shirt patterns? You just couldn't find the perfect piece that matches your brand or corporate image that fits through your tight budget? Worry no more.
Come straight to consult us at Luminous Printing for custom t shirt pattern. We provide the best in town in terms of cheap but best quality and presentation of a garment in terms of design.
We are the best when it comes to consultation for custom t shirt services. With much care and considerations, we will advise every single detail based on your desire towards the outcome of your customize garments.
With a touch of Luminous on your apparel customization, you will definitely be able to catch the eye of your customers with the piece that screams you or your company brand image by just wearing it.
We understand that an impactful first impression is a key for customers to remember and differentiate you from the market as we believe what you wear is what you are. That is why we are not only offering you the best quality products with a variety of materials when it comes to customization of your garment but as well as the service that everyone is looking for.
You could customize any part of your apparel, top to bottom; whether if it's the design, cuttings, fabrics, accessories, colors and so on.
Have no idea to custom t shirt design? No worry, we have quite a lot of ready stock template for your selection.
Found no design here? You can get some resources from google or other platform and share with us. However, if you are really can't find any suitable design, you may consider to get our design service department come out with a unique design base on your idea & imagination.
Hereby the steps of teaching you how to start your custom t shirt journey with us. Our sales representative will guide you in customizing the tshirt.
Step - 1 
CUTTING AND SEWING (PATTERN MAKING)
This is the very first step if you would like custom t shirt or polo tshirt. A pattern defines as the first template of your garment, or most of the people name it as architects in this tshir printing Singapore industry.
Without this, sample maker will have no direction, and also our sales representative have no idea how to provide you the quotation.
At Luminous you can either use our standard ready stock design or the pattern that we have on below selection. & Resources from any platforms are always welcome to share with us.
Patterns of Polo T-shirts and Roundneck T-shirts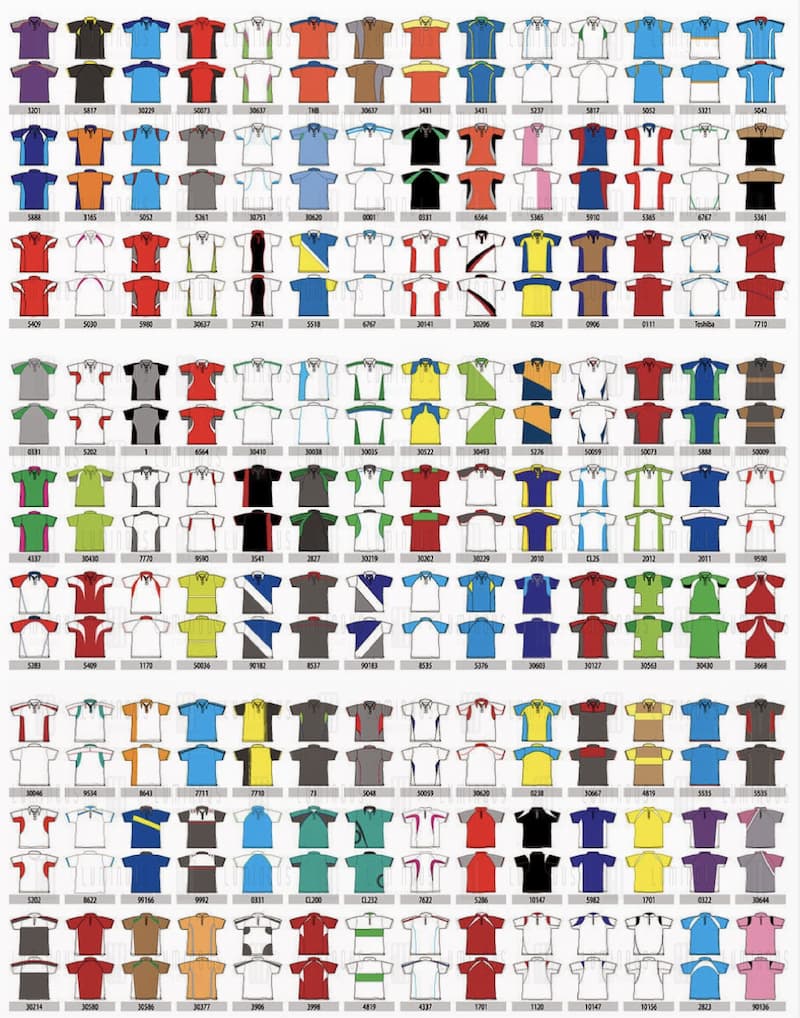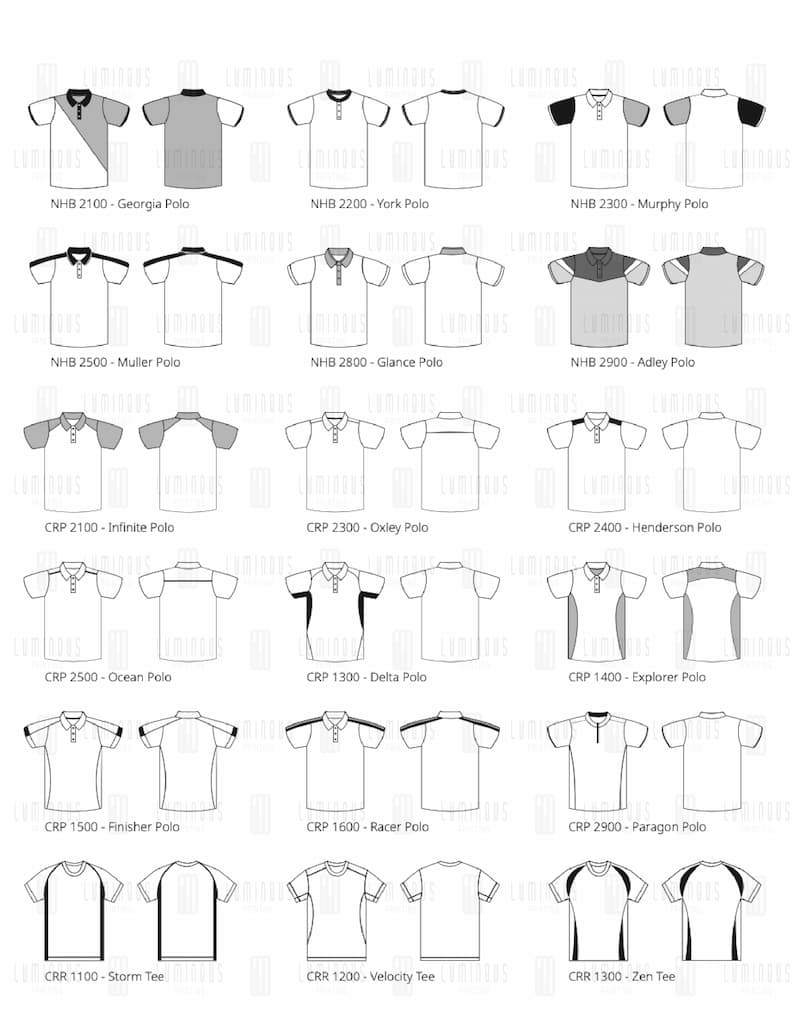 Step - 2
FABRIC & COLOUR SELECTION
Fabric selection is also an important part of customization. Pick the material of your choice with different functionality that suit and create the comfort of your daily usage. Luminous Printing offers various types of material and colors options.
1. Drifit Eyelet (100% Microfibre / Polyester, 160GSM )
This is the most basic drifit material commonly being used in this industry. It's the cheapest material as well. 26 Colors choice for your selection. Normally we use this for the jersey, class t-shirt or events tee.
Below are the colors selection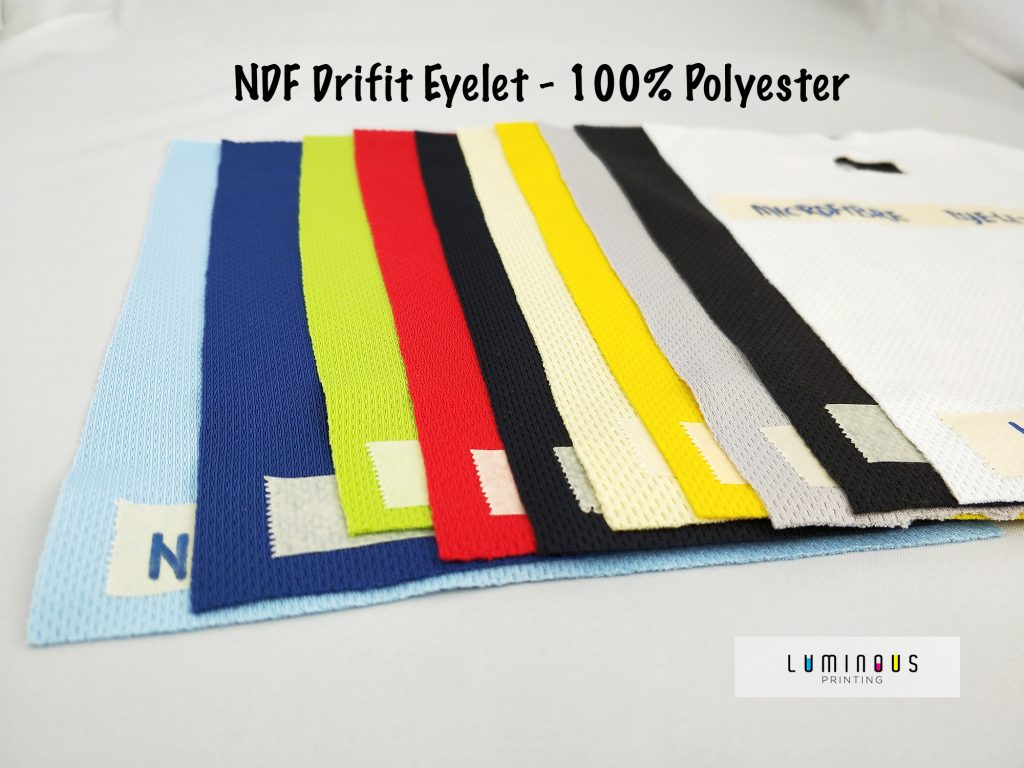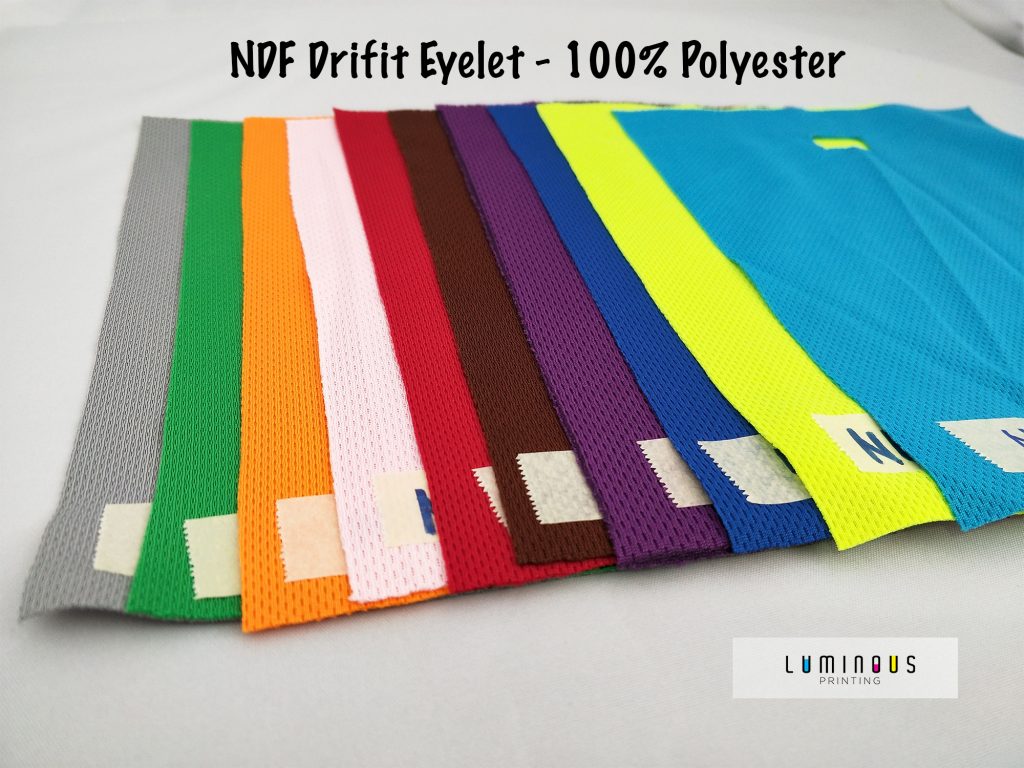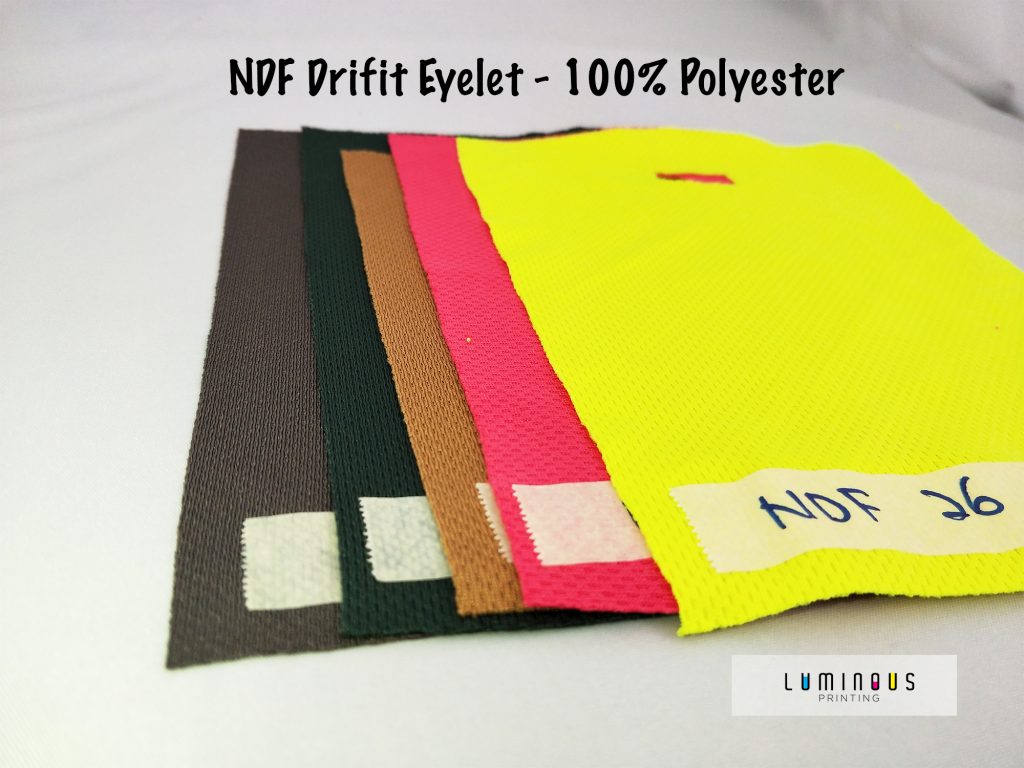 2. Drifit Interlock (100% Smooth Microfibre / Polyester, 160GSM )
Smooth surface without any hole on the fabric. 18 Colors choice for your selection  Normally in use for soccer jersey or football jersey
Below are the colors selection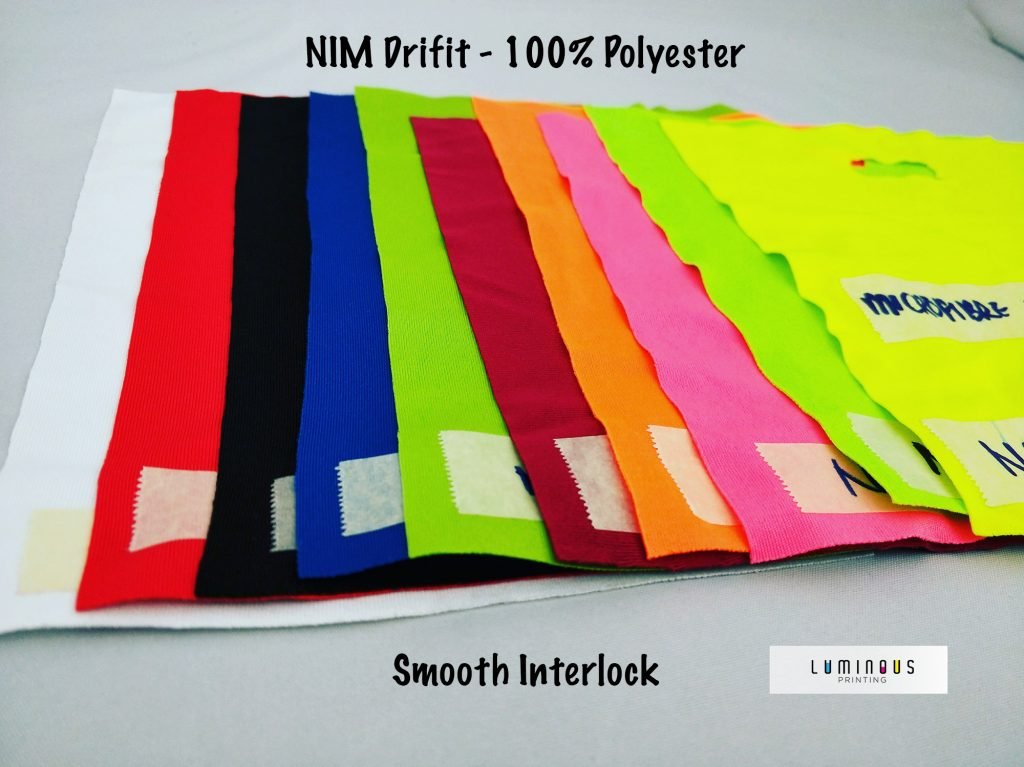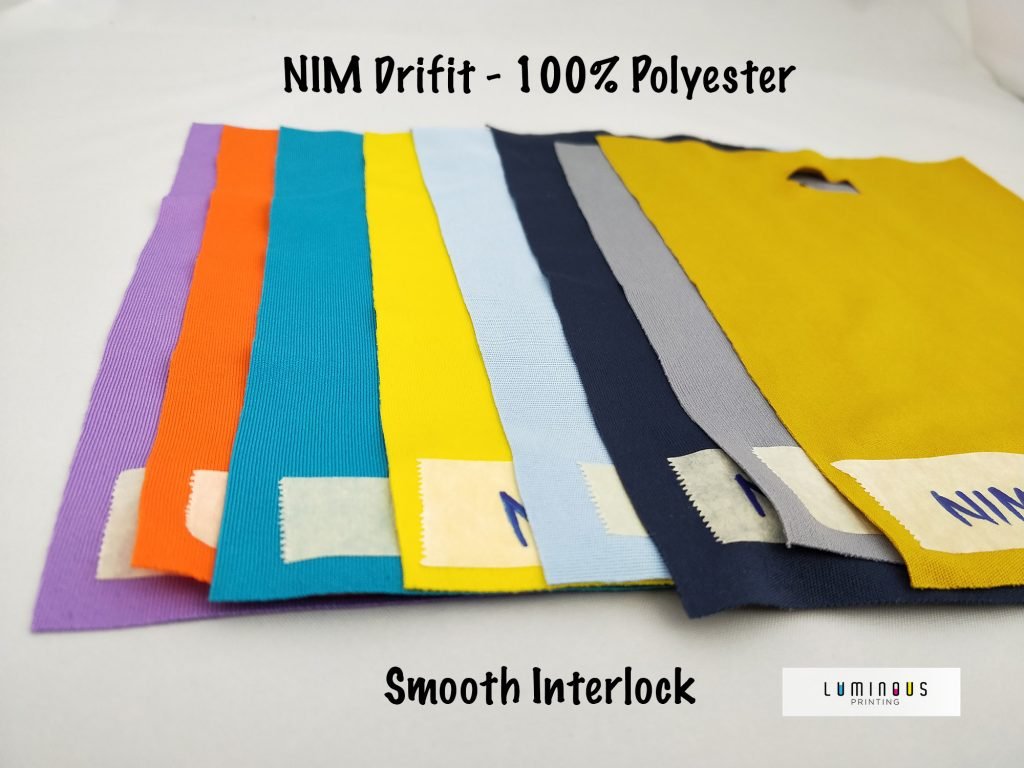 3. Cotton ( 100% Cotton, 160GSM )
You can see cotton everywhere. More than 50 basic Colors options for your selection. Normally use for event t-shirt or class t shirt.
Below are the colors selection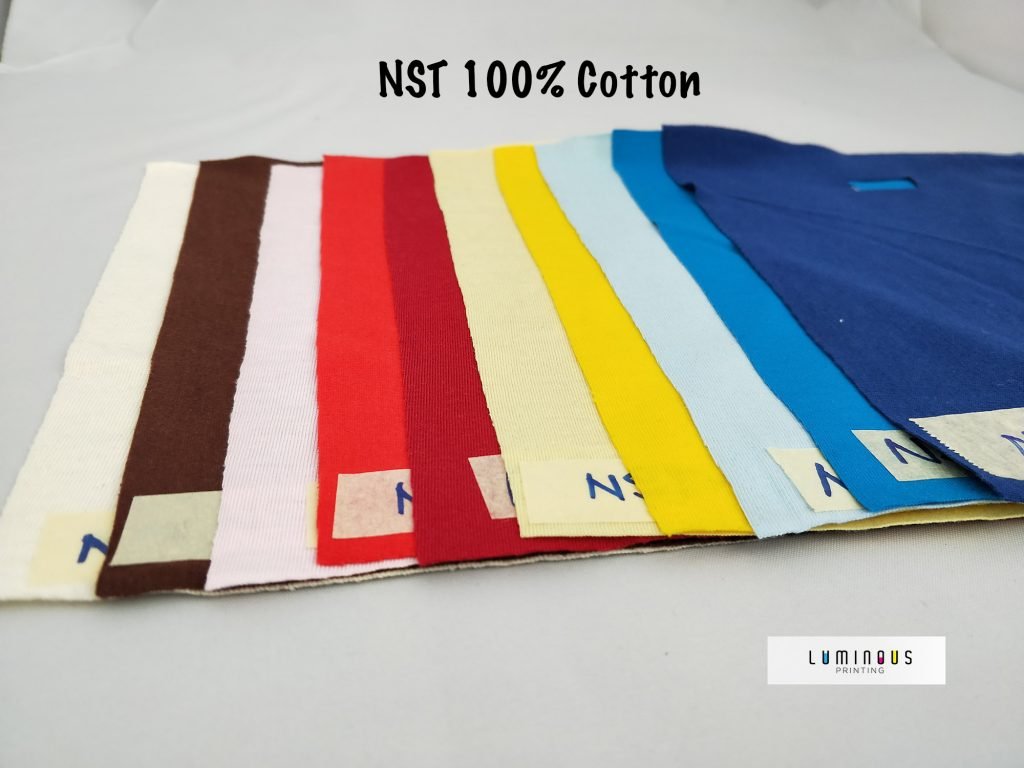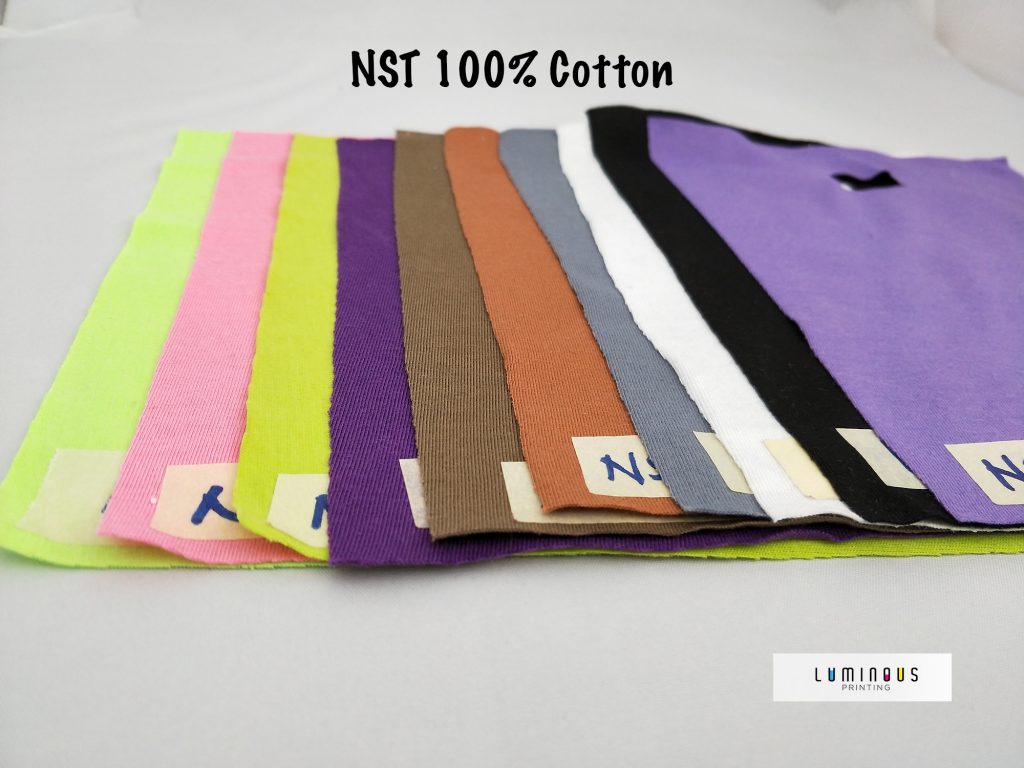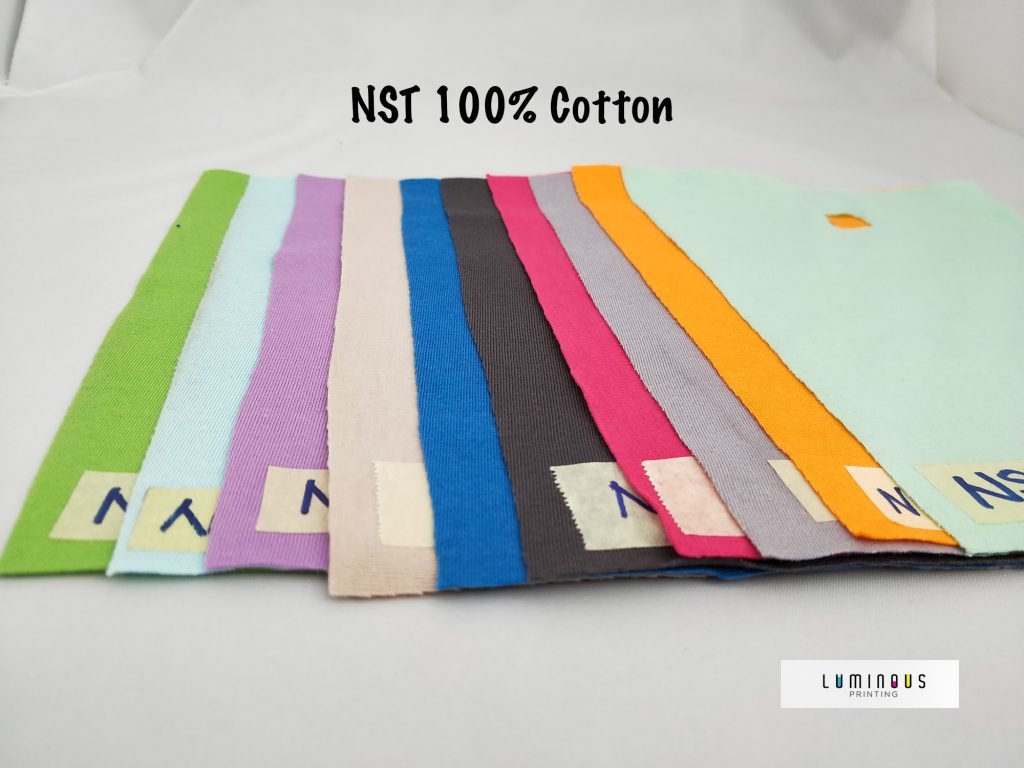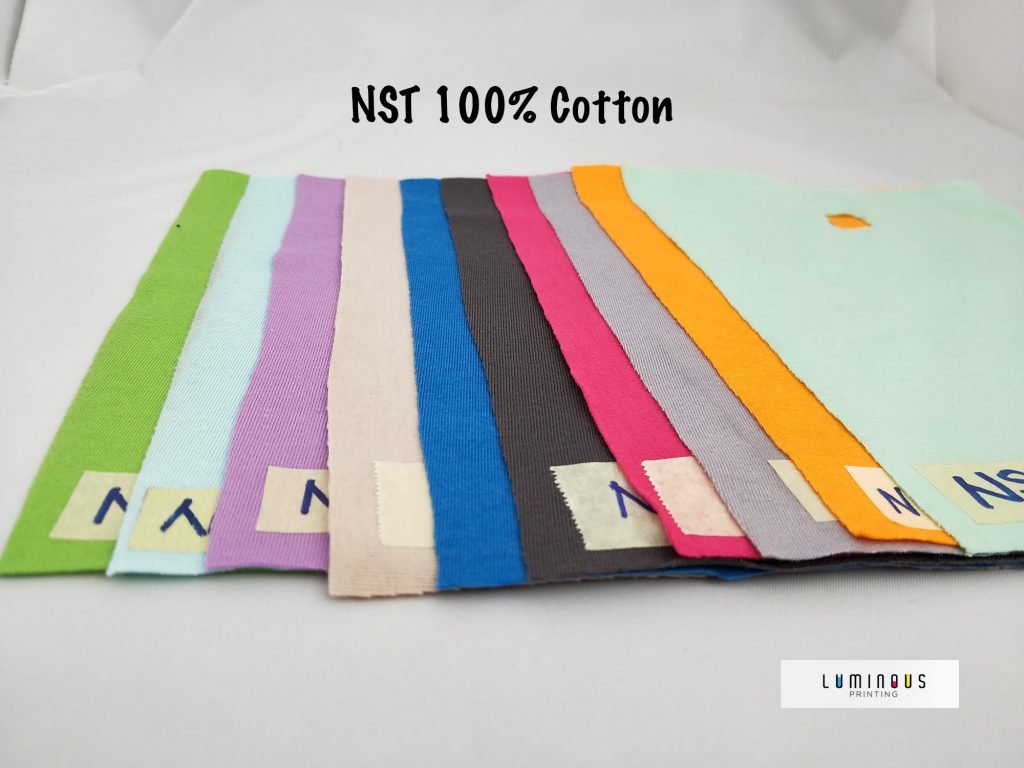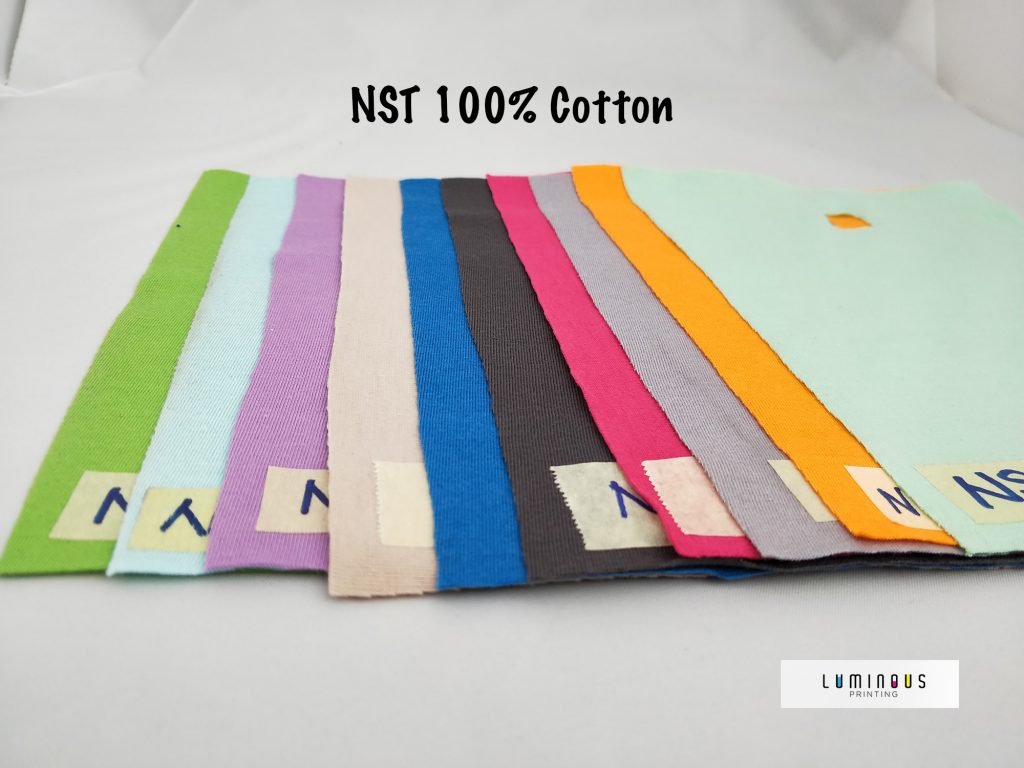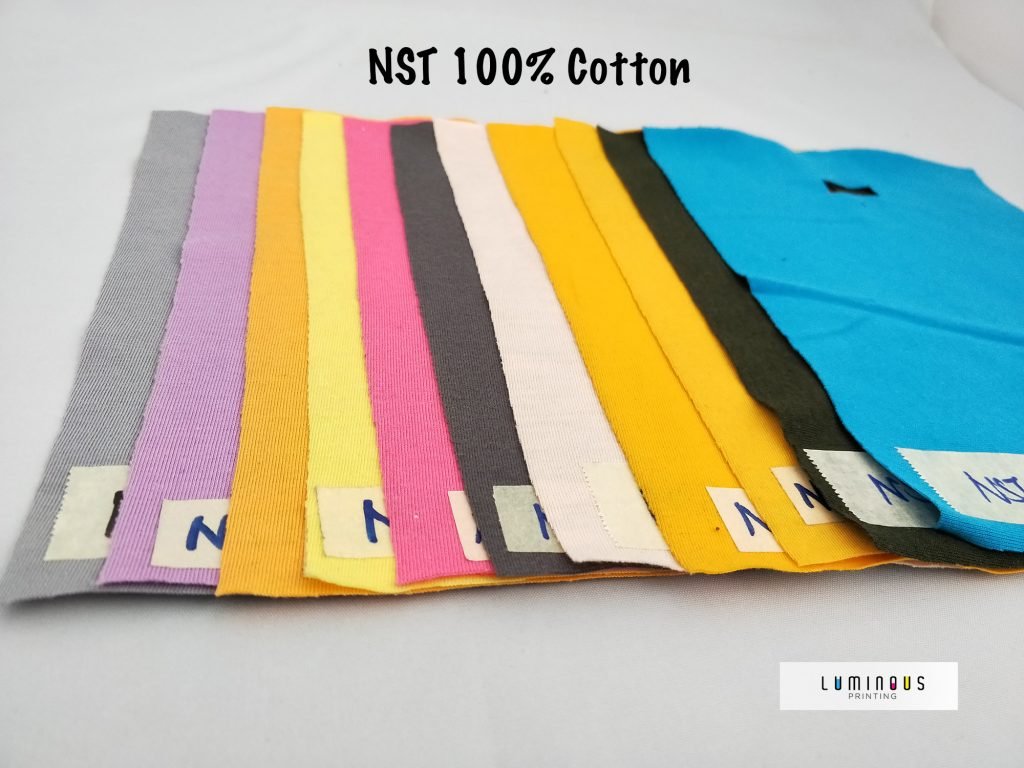 4. Honeycomb ( 60% Cotton mixed with 40% polyester, 230GSM )
The most used on corporate uniform polo. It gives people a sense of professionalism especially when the polo comes with an embroidery logo on it. More than 45 basic Colors options for your selection.
Below are the colors selection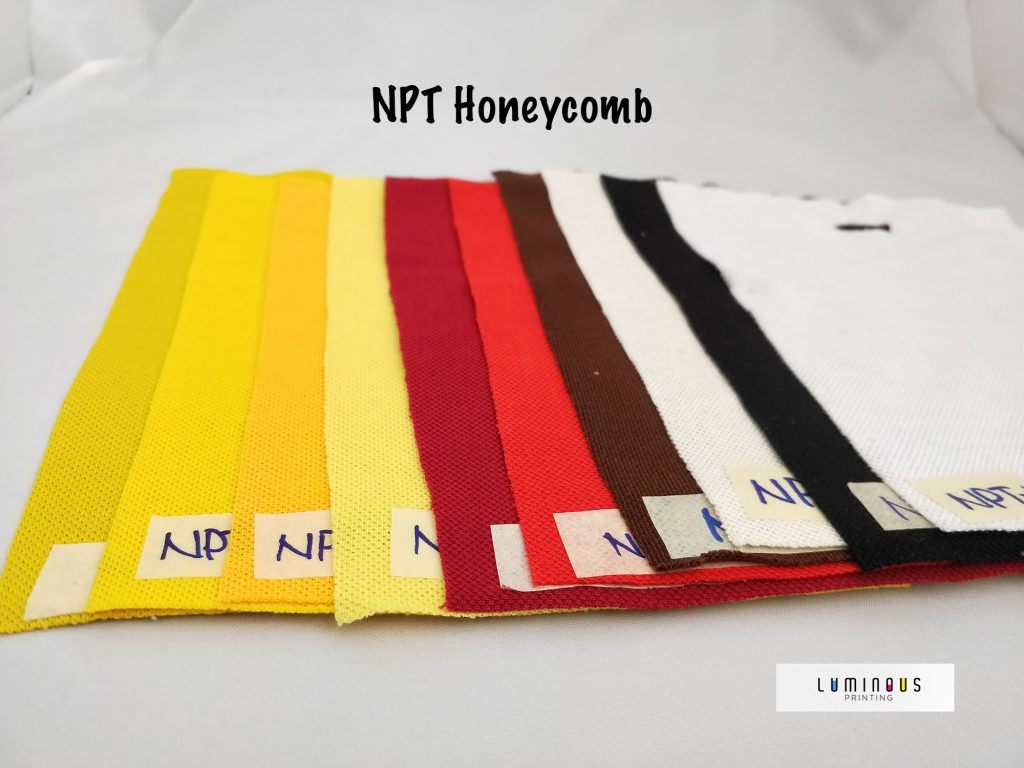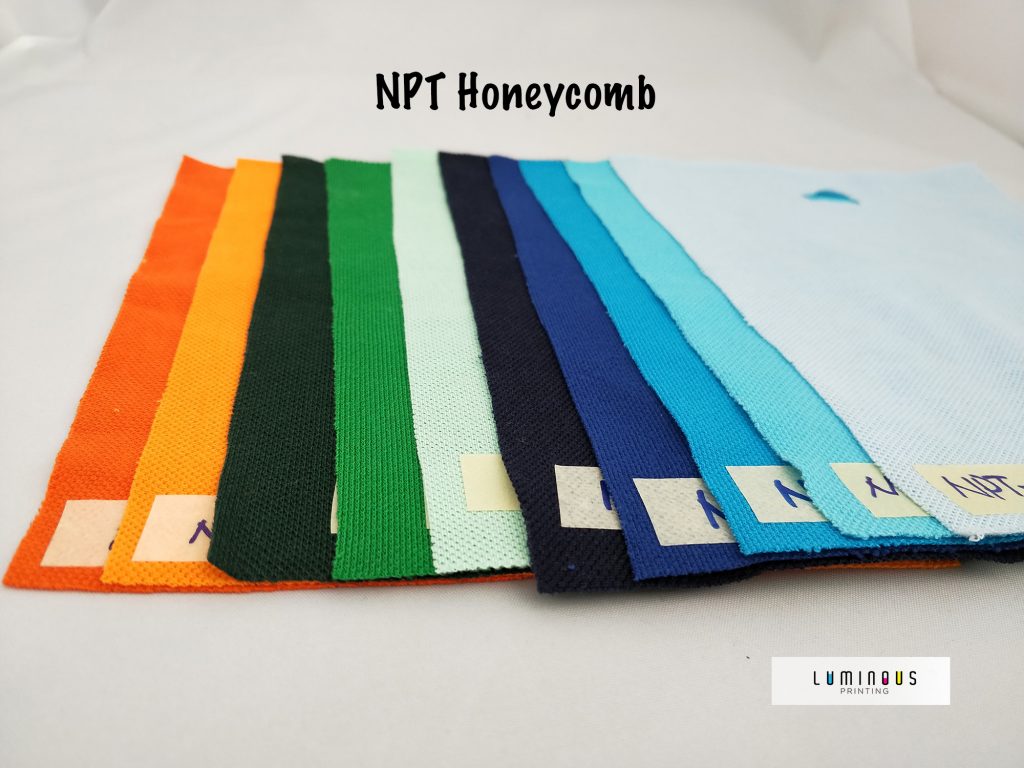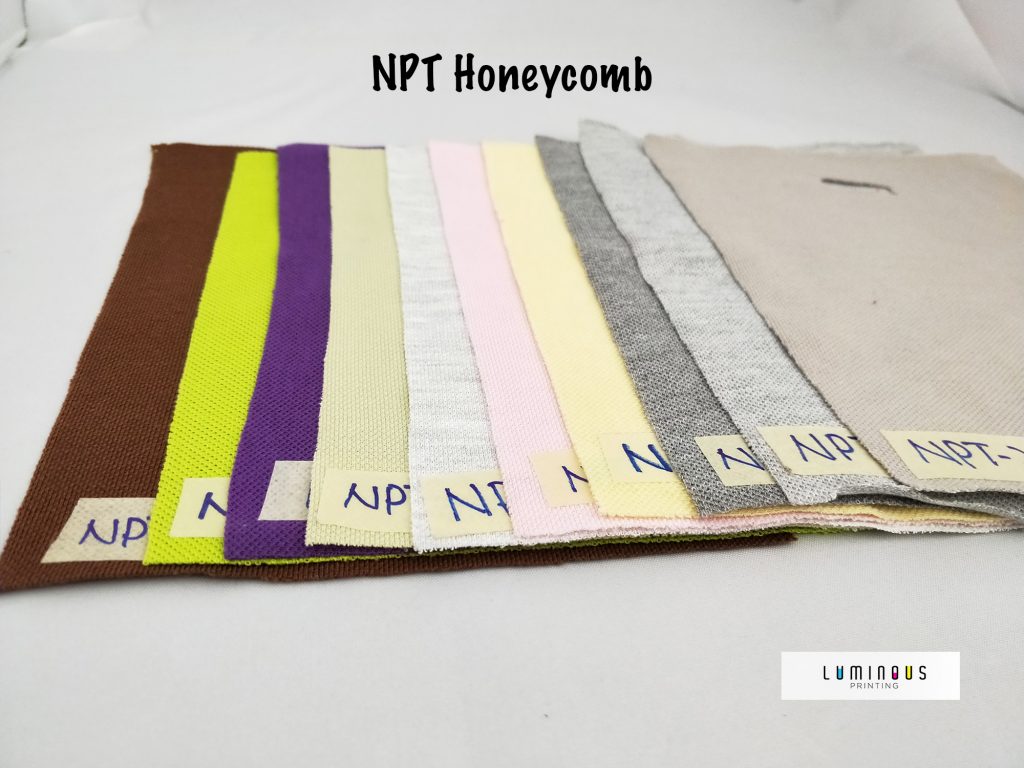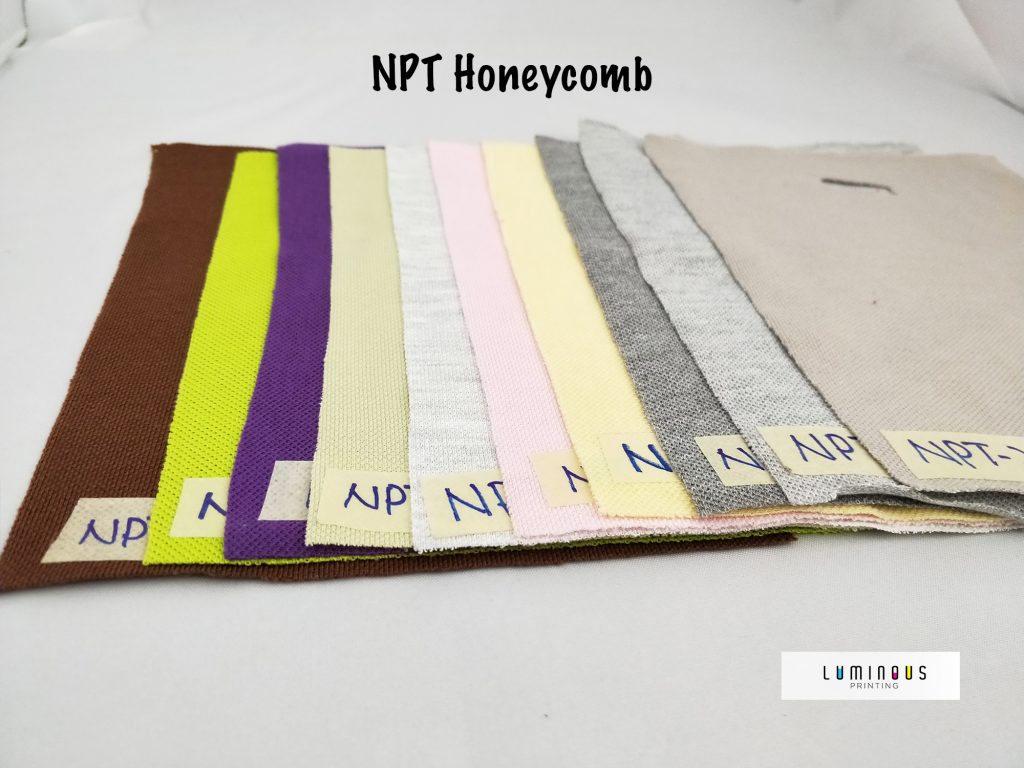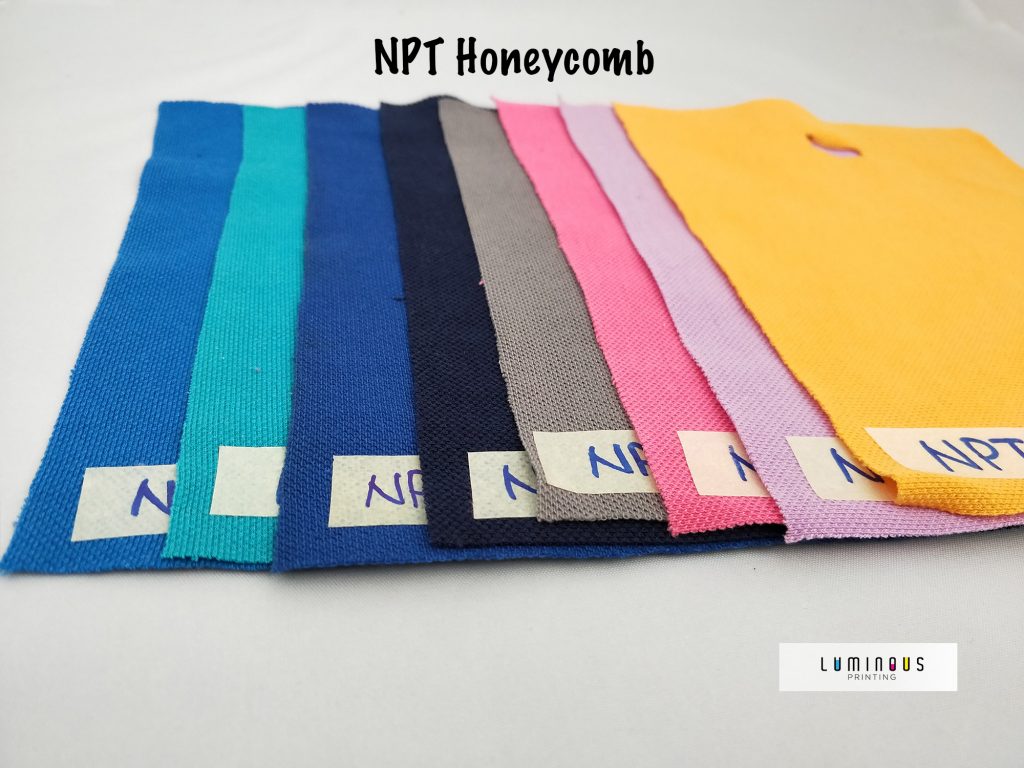 5. CVC Lacoste Honeycomb (60% Cotton mixed with 40% polyester, 230GSM)
Higher grade than normal Honeycomb. It is smoother and thinner compare to a basic honeycomb. But the color option is very limited, with only 8 basic 1 to be select.
Below are the colors selection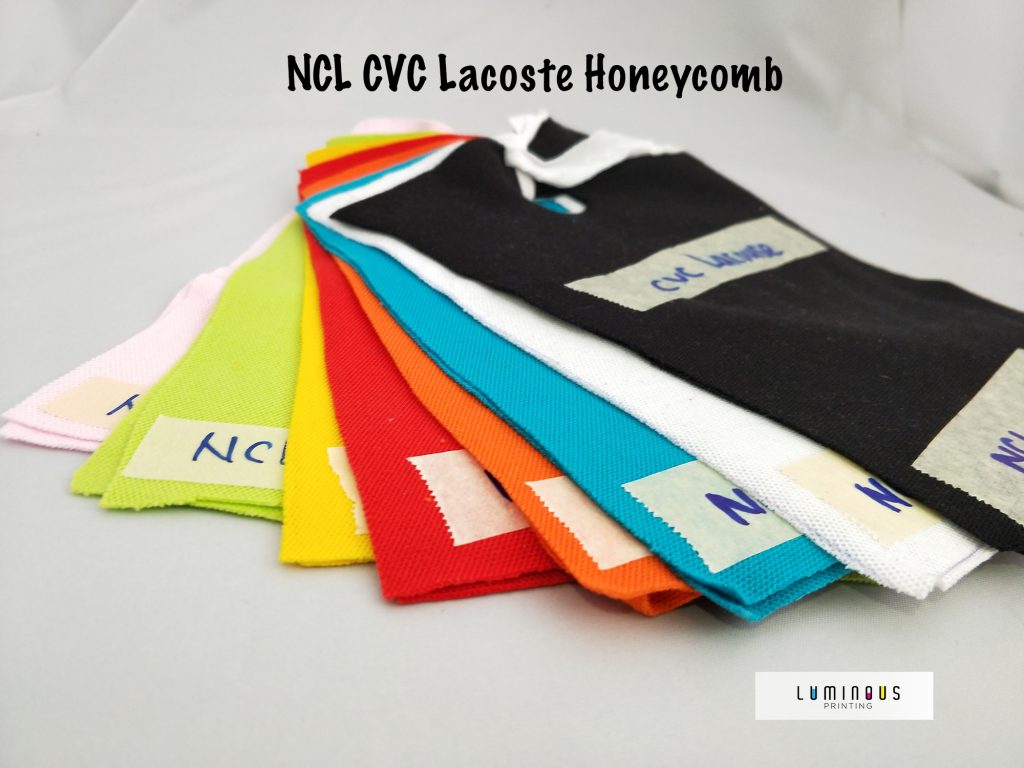 Step - 3
ADVISE DATELINE AND APPROXIMATELY QUANTITY
As customization, a new design of t shirt will require at least 2-3 working weeks upon confirmation of the design proposal. furthermore, a minimum of 50pcs/design is always needed
With the above criteria, you are in the right pages. Otherwise, you could only select from our ready stock catalogue: T-shirt catalogue 
Step - 4
ATTACH ARTWORK AND SELECT A SUITABLE PRINTING METHOD
Do attach the artwork or logo that want to be printed on the apparel and advise which printing method you prefer and the sizes you want to print. Check with the sales representative if you have no idea which 1 to use.
Silkscreen Printing
Embroidery
Digital Heat Transfer
Vinyl Transfer
Direct-To-Garment (DTG)
Foil Printing
Check this link for more printing method information: LINK
Step - 5
CHOOSE FINISHING ACCESSORIES (OPTIONAL)
Buttons Color
Mandarin Zip
Packaging – Polybag
Step - 6
Provide Sizes breakdown – do provide us your size chart if you have it, the dimension needs to consistently increase. Otherwise, you may refer to our ready stock size chart: LINK
Step - 7
Get a quotation with us! Send in your email enquiry to sales.luminousprinting@gmail.com with the above Step 1 – Step 6 selections.