Printing photos and multi-colored graphics with gradients would never be a worry anymore when it comes to digital to silkscreen printing. You desired a piece of art to be printed out and transferred to a carrier. The artwork on the carrier will be heat-pressed onto the garment of your choice. Price is determined based on the size of your printing. Sizes range from as small as logo size up to A3, you name it we print it. This T-Shirt Printing Method is recommended for small-run production at reasonable rates with dynamic and durable prints on your apparel.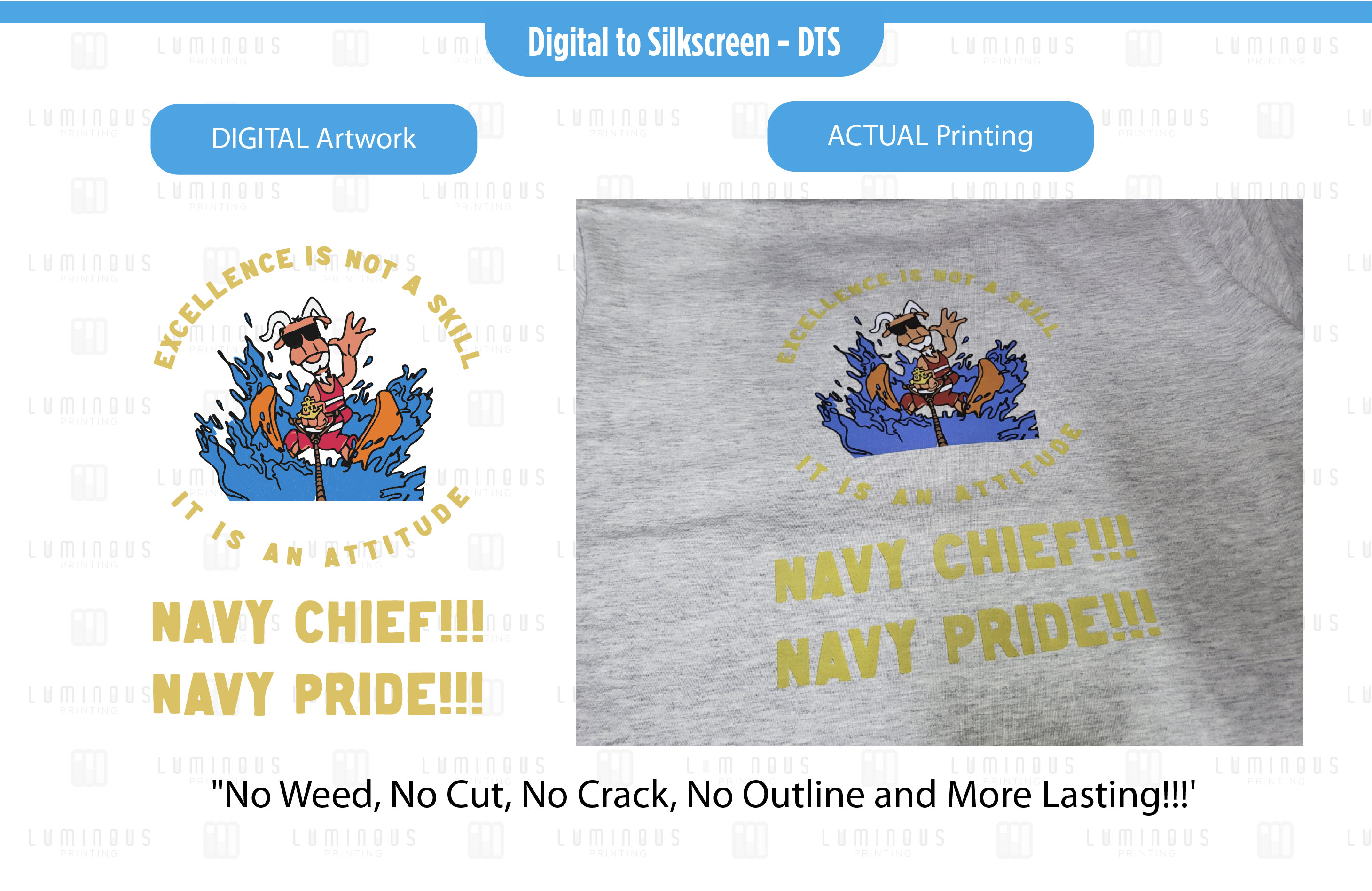 What is Digital to Silkscreen Printing?
Digital to Silkscreen is the latest printing method in the T Shirt printing industry. It is commonly used when an artwork with multi-color graphics or gradient graphics is printed on apparel . Digital to silkscreen is whereby we are required to print the artwork on a sticker first and only then it will be transferred to a carrier. This new machine is using the silkscreen water based ink to create the full color image, with no crack , no bleeding line , no weed, no cutting line and more long lasting.
How do you do that? Like just… how did it sound so simple? With just a printed artwork of our choice, have it gradient, all colour with complicated features and it will be stuck to a piece of garment by just heat pressed?
While you are still wondering how it could be possible when digital to silkscreen printing sounded so complicated, here's a short and brief step to let you know "The Magic" of Digital To Printing that has the artwork lays firm on any garments. It is quite simple actually, you just need to take note of these three important factors; Time, Pressure, and Temperature. See, it is as easy as "Sugar, Spice, and Everything nice"; Setting the correct time, using the right amount of pressure, with the correct temperature of the heat press machine, the artworks that is digital printed and heat transferred will be able to achieve an exact masterpiece of what you imagine for your apparel.
Hence, this is also one of the reasons why you could print any artwork on almost every type of fabric. Furthermore, the result of printing will not be as thick as our old digital heat transfer sticker printing. Some of the customers don't really like the feeling of having the sticker finished while using digital heat transfer.
Since this is the only printing method that could transfer the exact artwork to the apparel, it minimized the colour lost from the original artwork. If you are only doing 1 single color printing , you should go for silkscreen printing instead.
Digital to Silkscreen printing results are surprisingly fabulous, it is even much better than Direct-to-garment printing.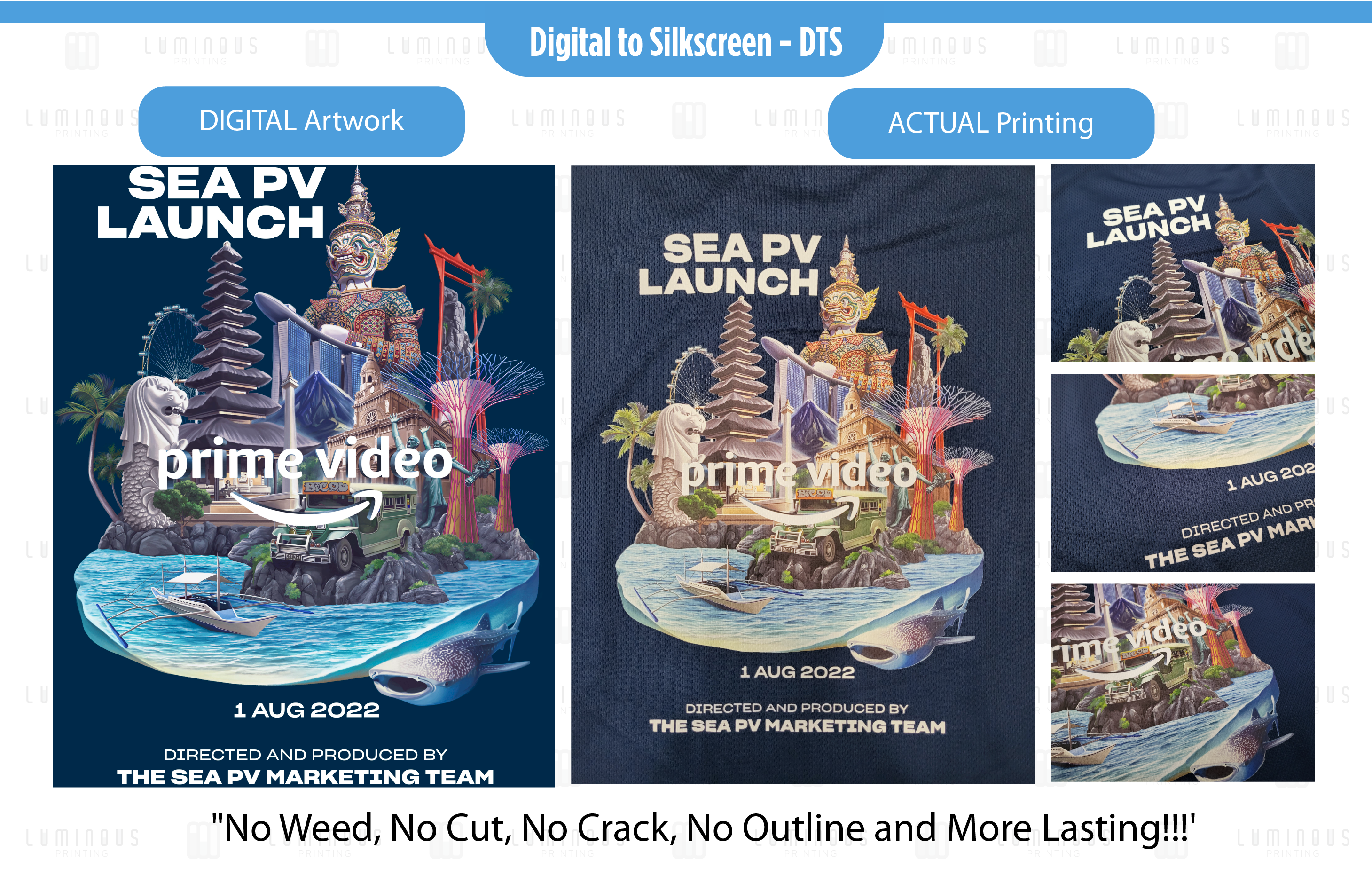 How much is Digital to Silkscreen Printing - DTS charges?
Dimension of the design

Location of the printing
What apparel and items can use Digital to Silkscreen - DTS?
Any tshirt material

Any polo shirt material

Caps

Short Sleeve / Long Sleeve Shirts

Tote Bags

Workwear, corporate uniform, chef uniform, etc…

Apron (Polyester or Cotton)

Backpack with available blank space

Blank Fabric
What are the advantages and disadvantages of digital to Silkscreen Printing?
Advantages
Most importantly no bleeding line , no weed , no cutting line , and long lasting than digital heat transfer.

Can be used for most of the fabric finishing (Tshirt, polo tote bag, jacket )

Able to transfer a photo, multi-colored artwork, gradient effect to any apparel.

No minimum quantity require
Disadvantages
Not long-lasting, can peel off with time if used and washed too often.

The material costing for printing is not economical. The bigger the design for printing, the more expensive it.

Not recommended on bigger design print (Eg. A3), as the vinyl sticker layer will cover the tee shirt.

Cannot create shadow or transparent effect printing.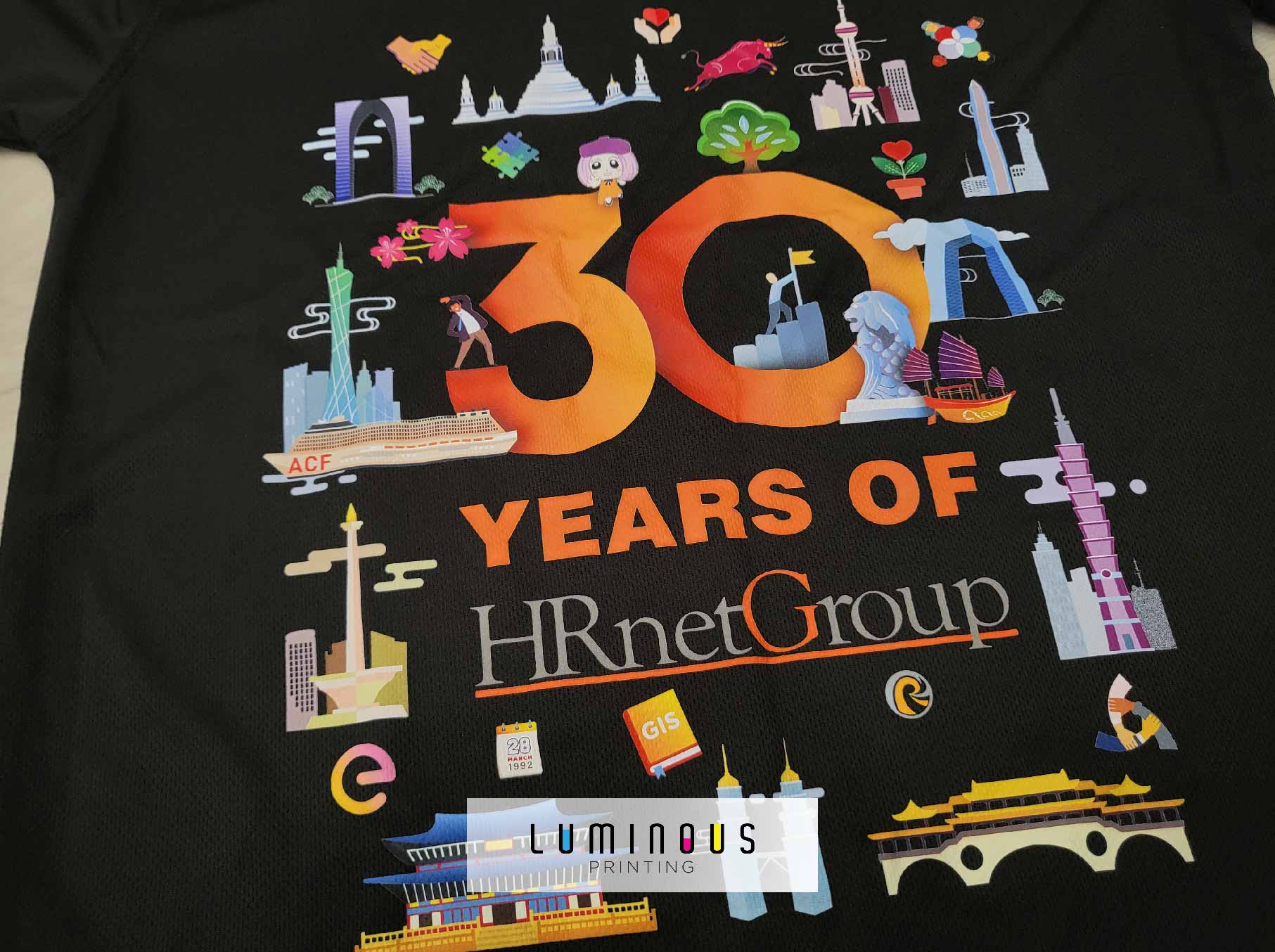 This method is best for:
Able to transfer a photo, multi-colored artwork, gradient effect to any apparel.

No minimum order quantity is required.