Top 5 Most Popular T-shirts Choice by Customer
You have no idea what material or which apparel to use for custom print your t-shirt for corporate events, for school class tee, for sports jerseys?
Luminous Printing has been operating for more than 7 years, and we came out with a report based on our daily sales. These 5 items have been categorised under the popular choice of customer selection in terms of very competitive pricing and the quality.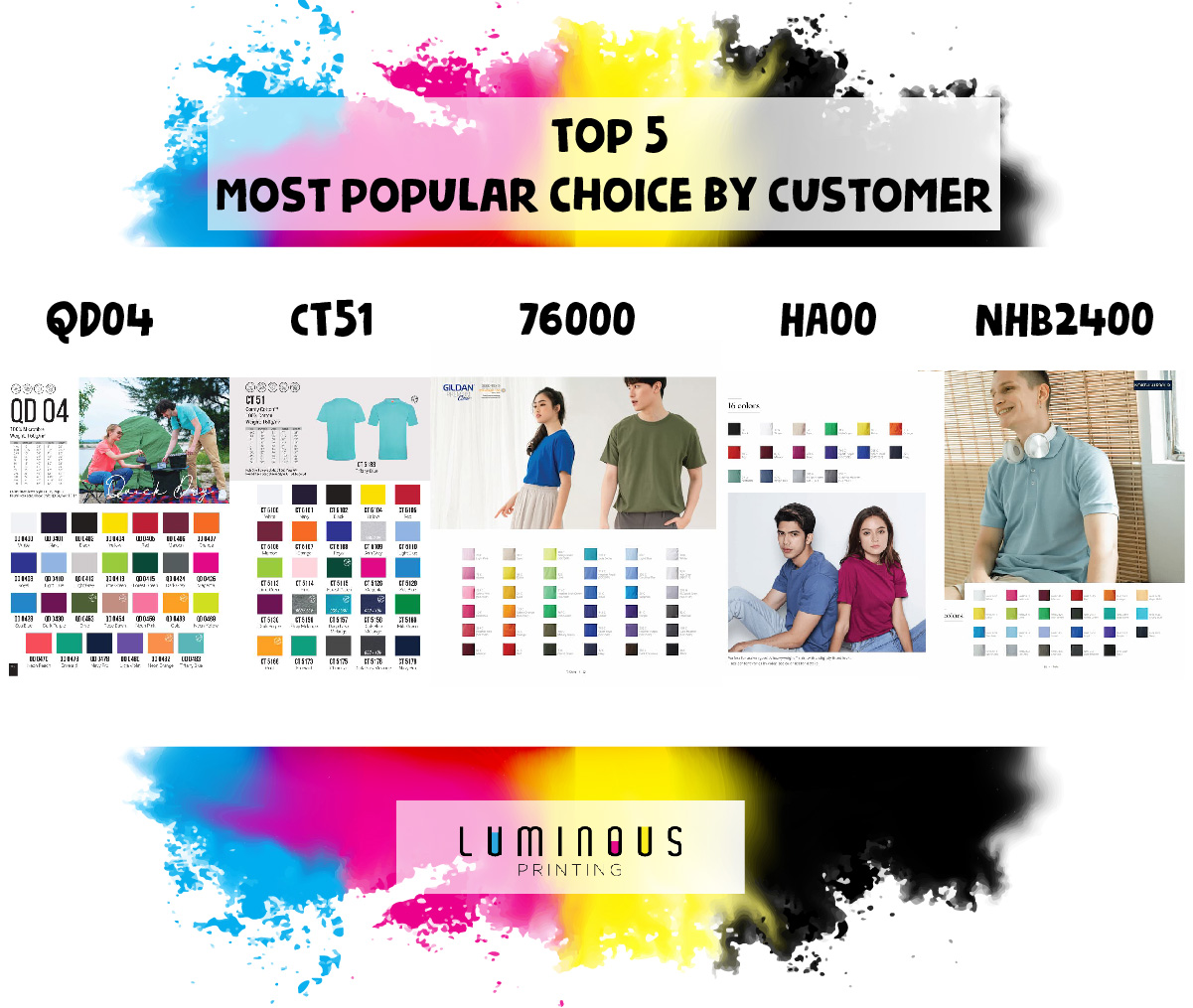 This is the most popular dri fit material t shirt made with 100% polyester cooling material with an eyelet hole allowing air to cross. If you ever receive a t-shirt from a camp, an event or from the school community, then you have a very high chance of getting this. The pricing is very attractive and affordable for every customer or even student. A total of more than 25 eco-friendly dyed colors available for customer selection, you will have more options to match your requirement. Furthermore, the biggest size range is available from 4XS to 5XL, some sizes are limited for certain colors only. This also comes with ladies cutting that allows ladies to have fitted sizes. Some of the students will also print their individual name and number as school sport jerseys and wear it in class. However, corporate companies also will order this series as their team building t-shirt.
This series is very commonly used if you wish to have the cheapest cotton selection. It is made with superb comfy and thin 100% cotton material, which is very suitable to wear in Singapore's hot weather country. This cotton material is made with 160gsm thickness and also comes with a thicker option CT60 superior cotton 180gsm, and CT71 superb cotton 200gsm. The pricing range between these 3 are only $0.50 per piece more. A total of more than 26 colors option for customers to select to use and print as their corporate or school t shirt. Silkscreen printing method is always used to print for solid color design , and heat transfer is used to print for gradient design.
If you have more budget and think that CT51 is too thin and non-premium, then you may consider our Gildan premium cotton brand. It is made with pre-shrunk 100% ring spun cotton in 180gsm and has more than 30 colors selection. It also has a very special color like sport royal , gold, sand , and some other heather colors. It also offers ladies and youth kids cutting for certain colors, which allow a whole family to print their family bonding activity t-shirt
If you still think that all above three are not the thickness that you are looking at, then the HA00 Hammer Gildan series will definitely be your final choice of what we have. This is made with 100% combed ring spun cotton preshrunk jersey knit with at least 210gsm thickness. It could be the closest grade as Uniqlo brand supima cotton t-shirts. However this series is more expensive in price compared to the others.
If you are looking for corporate wear, these 2 are basically the first choice of corporate company to make their corporate uniform. These both are made with a mixture of cotton and polyester materials. NHB2400 is slightly softer texture than HC01. Based on our research, it is hard to differentiate which is better based material , customers will really choose either 1 depending on how they touch the polo t shirt. The most suggested printing method would be to embroider your corporate logo on the front left chest area and probably print some slogan or information behind the polo.
 
If you have more questions regarding what and which to choose, kindly connect with our sales via email sales.luminousprinting@gmail.com or 91195104 for further explanation.