If you're thinking about having a t-shirt printed, you may be wondering how long it's going to take to finish. But don't fret; there are a number of options to choose from, including DTG, heat transfer, and even silk screen printing. You'll just need to make sure you choose the right service for your specific needs.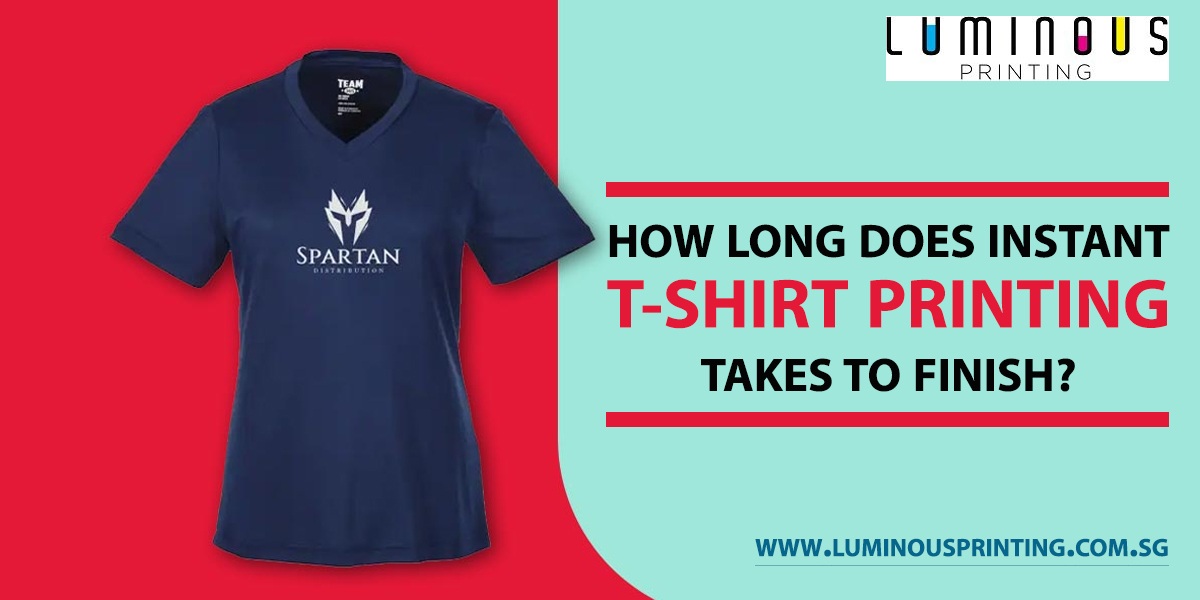 Silk Screen
Whether you're ordering a branded polo tee for your company, or planning a special event, silk-screen printing is a great way to produce a durable and stylish design. It also allows you to print small text and images, fine lines, and vibrant colors. While silk-screen prints are durable and lightweight, it's not a good choice if you're looking to produce a design with a lot of detail. If you want a truly detailed image, you'll want to consider a more traditional method of custom T-shirt printing.
Silkscreen printing is a common choice for t-shirts because it is fast and can produce impressive designs. However, it does require specialized materials, and it's also more expensive than other methods. The cost of silk-screen printing depends on the size of the order. It's usually not worth the expense if you're only aiming to produce a few shirts. If you're able to make a bigger order, you can spread the set-up costs across more shirts, lowering the per-piece price.
Embroidery
The length of time it takes to complete an embroidery design is dependent on the type of printing technique used. It is typically completed in around 7 to 10 working days. Silk screen is the most common printing method. This method allows you to have vivid graphics on your t shirt. The inks used for this process are colorful and durable. However, it is expensive and takes longer to complete an order.
Another option is to cut and sew printing. The process is similar to the heat-transfer printing, but the ink melts onto the garment's fibers instead of sublimation. It is cheaper than other methods and works well on cotton-based t shirts. You can also use Heat Transfer printing to customize jerseys and other 100% polyester fabrics. It is less accurate and may fade more quickly.
Also read about, How to Wear a Custom Polo T-Shirt With Style?
Heat Transfer
There are many printing techniques that can be used to create t-shirts. However, the options are not all equal. So, you should familiarize yourself with the processes involved in each. Heat transfer printing is a common method for creating t-shirts. This method transfers your design onto the fabric using special heat transfer paper. It works best with cotton t-shirts.
It takes a few days to get your prints. You can use a home printer to do it, or you can hire a commercial heat press machine. The heat transfer process is a fast and inexpensive way to have your t-shirts printed. Screen printing is a popular technique, but it's not a good choice for t-shirts with complicated designs. It's expensive and requires a lot of set-up.
DTG
There are several options when choosing the right t shirt printing Singapore provider. These include Direct to Garment, silk screen, and embroidery. Each method has different costs and advantages. In addition, there are also varying levels of design detail. Direct to Garment (DTG) printing is an option for those who have a complicated design. It uses an inkjet printer. This process produces a soft, touchable feel that looks similar to retail shop t-shirts. It is suitable for colored fabrics as well as white ones.
Another popular option is Heat Transfer printing. This method can print photo-like images on 100% cotton and polyester fabric. It's ideal for customizing jerseys and other sportswear. However, it requires extra washing care. If you want to order a t shirt in Singapore, you can opt for the most common methods. Silkscreen and embroidery are the two methods most used by individuals.
Taking Better Care of Your Printed T-shirt
Taking better care of your printed t-shirt will not only save you money, but also help the environment. A few simple steps can help keep your tee looking its best. First, make sure you read the T-shirt label. Some models may have an option for a special crease-reducing cycle. If not, avoid folding the garment in two. The neckline and shoulders should not be stretched too much.
While you're at it, consider a mild laundry detergent. This will help prevent stains and help preserve the color of your T-shirt. The right detergent can also protect your screen print from the damaging effects of harsh chemicals. Try to avoid using bleach. It's not the best way to clean your shirt. In addition, you can use a mixture of vinegar and water. This will make the t-shirt smell a lot fresher.
Need T-Shirt Printing Singapore
Learn more about provider of t shirt printing singapore for t-shirt, bag, cap, and Corporate Gift Printing with Luminous Printing, and talk to our expert today. Give us call on +65 91195104 or mail us at sales.luminousprinting@gmail.com